Course details
【All-you-can-drink 3.0 hours】 All Premolu & Plum wine is OK! Lunch party can be done ♪ All 16 items 6,500 yen ⇒ 4,480 yen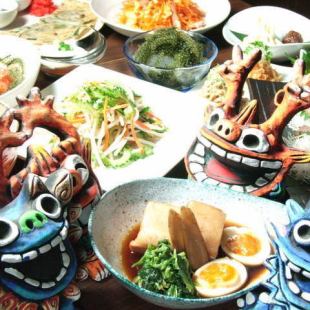 By using a coupon4480 yen
All-you-can-drink available

Premium · Malt's, Sour, Cocktail, Plum wine, Awamori 30 drinks as all you can drink ☆
Reservation deadline

Until 21 o'clock on the desired shopping day
Available days for reservation

Monday - Sunday - Public holidays - Holidays
Limited to customers of reservation for 3 hours with all you can drink! Course on which you can fully enjoy Okinawa home-style cuisine that does not get tired ☆ On that day.
Course menu
Small bowl
■ Brown Beans
■ Colicoli Mimicer
■ Arthur Dagger rolls
■ Tauride Original Seas Grape Salad
■ Okinawa fresh fish carpaccio
■ Today's Recommended Champuru ~
■ Okinawa home cooking carrot
■ Pork Eggs Champuru ~
■ Fried rice ballpoon tempura
■ Tempura of Goya
■ Sauteed boiled Ryuta fried
■ Ruffie simmered 12 hours slowly
■ Okinawa style Chi Kimi "Hirayachi"
■ Okinawa soba or Ryukyu Bamboo noodles
■ Blue Seal Ice
※ 4 people ~ available
※ Friday, Sunday and public holidays 2.5 hours
All-you-can-drink menu
·beer
· The Premium · Mortz
·sour
· Oolong Hi / Lemon Sour / Grapefruit Sour / Mango Sour / Gua Basser / Pineapple Fruit Sour / Turmeric / Seek Worcester / Highball
·Cocktail
· Gin tonic / Moscow / Vodka tonic / cassis (soda · oolong · orange · grapefruit) / lychee (soda · oolong · orange · grapefruit)
·Plum wine
· Honey-plum wine / rich plum wine / lady's plum wine
· Awamori
· Kariyushi
·Soft drink
· Oolong tea / Mandarin tea / seeker juice / orange juice / grapefruit juice
· Shochu · Awamori (+ 500 yen)
· 【Wheat Shochu】 Yaemaru / Milky Way / Wanko 【Potato Shochu】 Black Kirishima / Kaido / Nanko [Awamori] Rogue / 100 Years' Dream
· Plum wine (+ 500 yen)
· Red plum wine (shiso) / brown sugar plum wine (brown sugar) / white cranes plum wine (alcohol) / green tea plum wine (green tea) / black vinegar plum wine (black vinegar) / white ball plum wine (brandy) / akamatsu the sky of the sky
Coupons that can be used with this course
2018/12/31 update